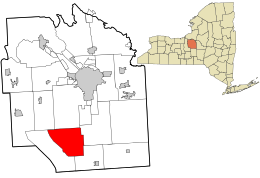 The Town of Otisco
The Town is situated approximately 21 miles south of Syracuse, New York.
The area in which the Town is located had been occupied for centuries by the Onondaga People, one of the original 5 nations of the Iroquois (Haudenosaunee) Confederacy in northeast North America.
The name "Otisco" may have been derived from the Iroquois name for Nine Mile Creek, Us-te-ke, meaning "bitter-nut-hickory". At least one older map, published in 1825, has the name spelled as "Ostisco". The name may also have been derived from the word ostickney, meaning "waters much dried away", or from the Onondaga word ostick, meaning "the water is low".
The area became part of the former Military Tract of Central New York State which consisted of nearly 2 million acres of land that was set aside to compensate New York's soldiers after their participation in the Revolutionary War (American War of Independence). The Town was first settled by outsiders around 1798, and permanent settlement began around 1801. The Town of Otisco was formed in 1806 from parts of the towns of Marcellus, Pompey and Tully.
The Town also encompasses the Hamlets of Otisco and Amber, the latter being situated on the north shore of Otisco Lake, which is the easternmost of New York's eleven Finger Lakes.
The Town's picturesque countryside, with its rolling hills and mountainous terrain, is rural, dotted with homes, family farms and small businesses.
There were 2,541 residents and 922 households within the Town according to the 2010 census. In contrast to its relatively small population, the Town of Otisco is the 4th largest Town in Onondaga County in terms of land size, covering approximately 31.2 square miles with approximately 34.40 miles of Town roads. The Town Government consists of a Town Board, Town Clerk, Town Justice Court, Town Highway Department, Code Enforcement Officer, Animal Control Officer, Tax Assessors, Tax Collector, Attorney for the Town and Town Financial Advisor.
A Directory of the Town's Municipal Departments can be found in the Municipal Directory on this website at townofotisco.com/services/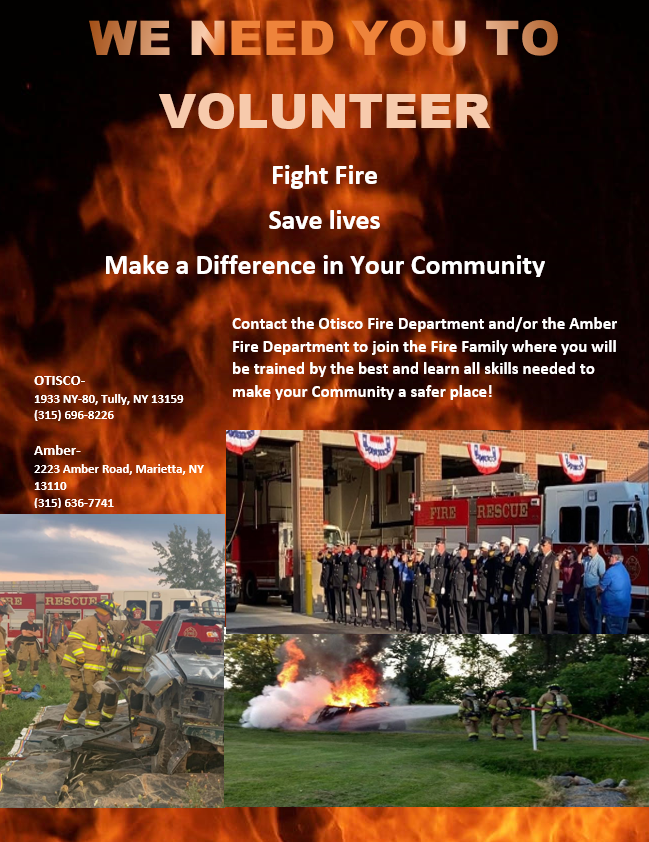 OTISCO LEGAL NOTICE
The Assessors will be in attendance with the Tentative Assessment Roll Monday, May 15 and Friday May 19 from 6:00 pm to 7:30 pm and on Saturday May 20 from 9:00 am to 10:30 am at the Otisco Town Hall, 1924 Barker Street, Otisco, New York for your convenience. The Assessment Board of Review will meet May 23, 2023 from 5:00 pm to 9:00 pm at the Otisco Town Hall to hear and examine all verified written assessment complaints. A copy of the Tentative Tax Roll will be left with the Town Clerk May 1, 2023 where it may be seen during normal business hours.
Stephen Cowles
Chairman to the Assessors
Health Insurer's and Group Health Plans Transparency in Coverage Rule
In 2020, the Federal Government finalized the "Transparency in Coverage" Rule, which requires health insurers and group health plans, including self-funded clients, to provide cost-sharing data to consumers. For self-funded plans, such as the Town of Otisco's plan for its employees, this information is to be available via Machine-readable files for plan years beginning on or after January 1, 2022. These files provide pricing data for covered items and services based on in-network negotiated payment rates and historical out-of-network allowed amounts.
The machine-readable files are available free of charge. The user is not required to establish a user account, password, or other credentials and does not require the user to submit any personal identifying information such as a name, email address, or telephone number.
The Town of Otisco participates In the Onondaga County Municipal Employee Benefits Agreement (OCEBA), which is an arrangement among several municipal entities involved in self-insurance plans for their municipal employees.
Therefore, to access the Machine-readable files relative to the Town of Otisco's self-funded plan, please go on the internet to the following link, and scroll down to the OCEBA Group Health Benefits file: transparency-in-coverage.uhc.com
New York State Homeowner Assistance Fund (NYS HAF)
The New York State Homeowner Assistance Fund (NYS HAF) is a federally funded program dedicated to assisting homeowners who are at risk of default, foreclosure, or displacement as a result of a financial hardship caused by the COVID-19 pandemic.
Apply if you're a homeowner who is:
Behind or in forbearance on their mortgage
In default on a reverse mortgage
Behind on property taxes, water, or sewage bills
Behind on monthly maintenance charges
Behind on their chattel loans, retail installment contracts, or other types of home purchase loans and/or lot rent
Call New York State Homeowner Assistance Fund for more information on this funding Monday through Saturday from 7 AM to 8 PM.
(1-844-776-9423) or visit their website at www.nyhomeownerfund.org
Low Income Household Water Assistance Program (LIHWAP)
This Program helps low income households pay the cost of drinking water and wastewater services. The program can assist households who have past due bills for drinking water and/or wastewater services.
Eligibility and benefits are based on:
income,
household size, and
amount owed to drinking water and/or wastewater provider(s).
LIHWAP is a benefit based on the actual amount of drinking water and/or wastewater arrears, up to a maximum of $2,500 per drinking water or wastewater provider, or $5,000 if drinking water and wastewater services are combined
For more information about LIHWAP please call the NYS LIHWAP Call Center at 1-833-690-0208 or call the toll-free OTDA Hotline at 1-800-342-3009. You may also email LIHWAP at: NYSLIHWAP@otda.ny.gov. or visit their website at https://otda.ny.gov/programs/water-assistance/
COVID HOME TESTS AND FACEMASKS
The Town Clerk has been provided with a limited supply of COVID-19 At-Home test kits and face masks from Onondaga County for distribution. While we hope to have these supplies replenished in the near future as they become available to the County, unfortunately, at this time, the At-Home test kits supply is limited.
New Time for Town Board Meetings
Please note that the Town of Otisco Town Board's regular monthly meetings starting times have
been changed from 7:30 PM to 7:00 PM.
Regular Town Board Meetings are held on the 2nd Monday of the month commencing at 7:00 PM
(except for the month of November due to budget meetings. The date and time of the November
Town Board Meeting is established by the Town Board at the October Town Board meeting).
Regular Town Board Meetings are open to the public and are held at the Town Hall located at
1924 Barker Street in Otisco, New York.
To speak with the Town Supervisor or any of the Town Counselors, please call (315) 696-4676
and follow the prompts on the recorded message, or you may attend any regular Town Board
Meeting and request that the Board address any questions or concerns.
Drive-thru Taxes
The Tax Collector now has a drive through window located on the South side of the Town Hall (right side as you are facing the Town Hall) at 1924 Barker St., Otisco, NY 13159 for the transaction of tax related business during the Tax Collector's business hours (please see Tax Notice under Legal Notices on this website for the Tax Collector's hours.
2022 Tax Notice